What does the Bible say about Tithing?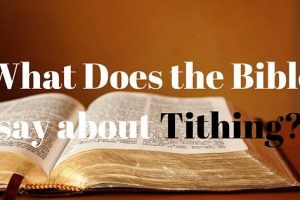 The Bible tells us in Psalms 24:1 The earth is the Lord's. As God's greatest creation, we are lent the earth during our lifetime. Because of this, we will be held accountable to God for our use of His possessions. The money God allows us to have is included in this accountability. Many Christians have no problem when it comes to God's money, other however, seem to find money as a major testing ground of their faith. The problem arises because of not knowing the Bible where giving is concerned or because of not fully surrendering possessions to the Lordship of Christ.
So what does the Bible say about Tithing?
The tithe is our way of honoring God.

Proverbs 3:9-10 "9) Honor the Lord with your possessions, and with the first fruits of all your increase; 10) So your barns will be filled with plenty, and your vats will overflow with new wine.

The tithe belongs to God.

Leviticus 27:30 "And all the tithe of the land, whether of the seed of the land or of the fruit of the tree, is the Lord's. It is holy to the Lord."

Abraham paid tithes to God.

Genesis 14:8-24 (verses 18-20) 18 Then Melchizedek king of Salem brought out bread and wine; he was the priest of God Most High. 19 And he blessed him and said: "Blessed be Abram of God Most High, Possessor of heaven and earth; 20 And blessed be God Most High, Who has delivered your enemies into your hand." And he gave him a tithe of all.

Jacob paid tithes to God

Genesis 28:10-22 (verses 18-22) 18 Then Jacob rose early in the morning, and took the stone that he had put at his head, set it up as a pillar, and poured oil on top of it. 19 And he called the name of that place Bethel;[a] but the name of that city had been Luz previously. 20 Then Jacob made a vow, saying, "If God will be with me, and keep me in this way that I am going, and give me bread to eat and clothing to put on, 21 so that I come back to my father's house in peace, then the Lord shall be my God. 22 And this stone which I have set as a pillar shall be God's house, and of all that You give me I will surely give a tenth to You."

Tithing is a means of worship

Deuteronomy 26:1-19 (verses 1-3) "And it shall be, when you come into the land which the Lord your God is giving you as an inheritance, and you possess it and dwell in it, 2 that you shall take some of the first of all the produce of the ground, which you shall bring from your land that the Lord your God is giving you, and put it in a basket and go to the place where the Lord your God chooses to make His name abide. 3 And you shall go to the one who is priest in those days, and say to him, 'I declare today to the Lord your[a] God that I have come to the country which the Lord swore to our fathers to give us.'

Tithing is a means of obeying the Words of Jesus.

Matthew 23:23 "Woe to you, scribes and Pharisees, hypocrites! For you pay tithe of mint and anise and cummin, and have neglected the weightier matters of the law: justice and mercy and faith. These you ought to have done, without leaving the others undone."

Tithing provides financial support for the local church.

Malachi 3:8-12 8 "Will a man rob God? Yet you have robbed Me! But you say, 'In what way have we robbed You?' In tithes and offerings. 9 You are cursed with a curse, For you have robbed Me, Even this whole nation. 10 Bring all the tithes into the storehouse, That there may be food in My house, And try Me now in this," Says the Lord of hosts, "If I will not open for you the windows of heaven and pour out for you such blessing that there will not be room enough to receive it. 11 "And I will rebuke the devourer for your sakes, So that he will not destroy the fruit of your ground, nor shall the vine fail to bear fruit for you in the field," says the Lord of hosts; 12 "And all nations will call you blessed, for you will be a delightful land," says the Lord of hosts.

We determine the amount of our increase from God.

2 Corinthians 9:6-15 "6 But this I say: He who sows sparingly will also reap sparingly, and he who sows bountifully will also reap bountifully. 7 So let each one give as he purposes in his heart, not grudgingly or of necessity; for God loves a cheerful giver. 8 And God is able to make all grace abound toward you, that you, always having all sufficiency in all things, may have an abundance for every good work. 9 As it is written: "He has dispersed abroad, He has given to the poor; His righteousness endures forever." 10 Now may He who supplies seed to the sower, and bread for food, supply and multiply the seed you have sown and increase the fruits of your righteousness, 11 while you are enriched in everything for all liberality, which causes thanksgiving through us to God. 12 For the administration of this service not only supplies the needs of the saints, but also is abounding through many thanksgivings to God, 13 while, through the proof of this ministry, they glorify God for the obedience of your confession to the gospel of Christ, and for your liberal sharing with them and all men, 14 and by their prayer for you, who long for you because of the exceeding grace of God in you. 15 Thanks be to God for His indescribable gift!"

Our tithing sets up an account with God.

Philippians 4:10-20 "10 But I rejoiced in the Lord greatly that now at last your care for me has flourished again; though you surely did care, but you lacked opportunity. 11 Not that I speak in regard to need, for I have learned in whatever state I am, to be content: 12 I know how to be abased, and I know how to abound. Everywhere and in all things I have learned both to be full and to be hungry, both to abound and to suffer need. 13 I can do all things through Christ[a] who strengthens me. 14 Nevertheless you have done well that you shared in my distress. 15 Now you Philippians know also that in the beginning of the gospel, when I departed from Macedonia, no church shared with me concerning giving and receiving but you only. 16 For even in Thessalonica you sent aid once and again for my necessities. 17 Not that I seek the gift, but I seek the fruit that abounds to your account. 18 Indeed I have all and abound. I am full, having received from Epaphroditus the things sent from you, a sweet-smelling aroma, an acceptable sacrifice, well pleasing to God. 19 And my God shall supply all your need according to His riches in glory by Christ Jesus. 20 Now to our God and Father be glory forever and ever. Amen."

God materially blesses the Tither.

Luke 6:38 "Give, and it will be given to you: good measure, pressed down, shaken together, and running over will be put into your bosom. For with the same measure that you use, it will be measured back to you."

God eternally rewards the Tither.

Matthew 6:19-21 "19 "Do not lay up for yourselves treasures on earth, where moth and rust destroy and where thieves break in and steal; 20 but lay up for yourselves treasures in heaven, where neither moth nor rust destroys and where thieves do not break in and steal. 21 For where your treasure is, there your heart will be also."